PSM Boat Drinks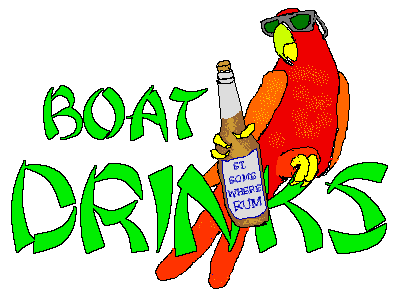 Boat Drinks!
Waitress I need two more Boat Drinks!
WOW!
There's some new drinks here. It about time!

Administrivia

You are Parrot Head that needed to fly to Saint Somewhere!.

---

Boat Drinks And Such.

NON Boat Drinks (drinks not principally using rum, such as beer, Margaritas, Ginger Beer, Sangria, and much more)
---
Boat Drinks
Easy Bahama Mama
Baja Side Car
Baja-Style Punch
NEW: Bama's Mama
Banana Republic
Banana Boat
Banana Puke
NEW: BeachComber
NEW: Beach House
Billy Clyde Punch
Blond Stranger
Captain's Colada
Coconut Telegraph
Cuba Libre
Coral Reef
Dark & Stormy
Daiquiris
NEW: Desdemona
Dreamsicle Punch
Expatriated American
Expatriated American Breakfast
NEW: Floridays
Gravity Storm
Hurricane
Hurricane Season
NEW: Jamaica Mistaka
Jolly Mon
Loco Cocoa Mohca
Mai Tai
Manana
Martinique Martini
Migration
NEW: Mojito
Mud Slides
Oyster Shooter
NEW: Pain Killer
Papa Doble
Pina Colada
Ragtop Days
Rum Boogie
NEW: Rum, Skip, & Go Naked
Sangriento Maria
NEW: Sex on the Beach
NEW: Sex on the Boat
Snuff Queen
Surf Sider
Tampico Trauma
Tire Swing
Tropical Rum Smoothie
Why Don't We Get Drunk And Screw
Yellow Bird
Zombie
---
The NON-Boat -- Boat drinks!
Drinks using something other than rum for the principal alcohol or party punches.
---